Yacht berth at Stadsgården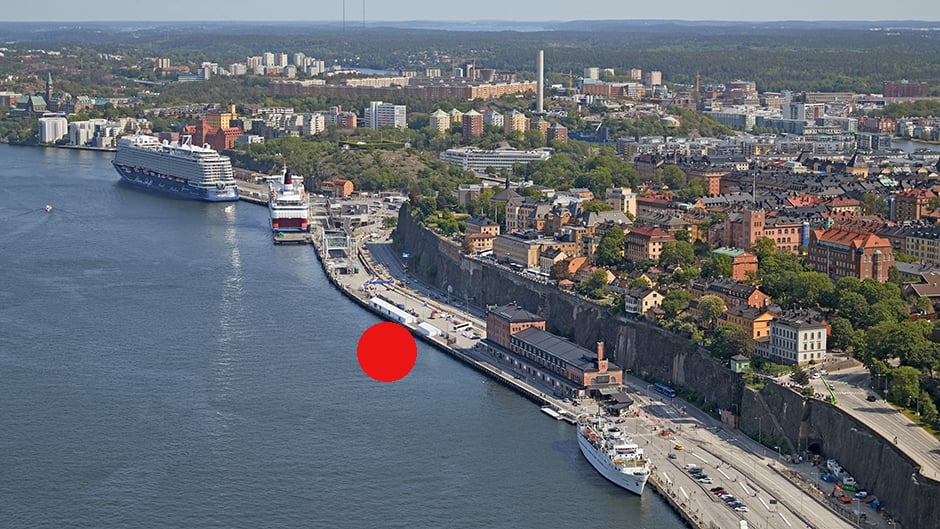 Stadsgården offers a full view of Stockholm's boat traffic, and when you want to disembark you are close to Old Town and the high points of Södermalm, Stockholm's southern island.
Stadsgården is part of Stockholm's southern port zone, extending along the southern side of the inner Baltic between Slussen locks in the west and Londonviadukten viaduct in the east.
Viking Line ferries depart from Stadsgården for Turku and Helsinki. Cruise liners and warships also come to Stadsgården.
Position for Stadsgården 160
N 59 19 11
E 18 04 90
Quay height at normal water level
2.82 metres
Length of quay
270 metres
This location is suitable for larger yachts, 50 metres+
Mooring and ISPS
Ports of Stockholm provides linesmen services at fixed rates.
This port facility is a flexible ISPS area. Both ISPS and non-ISPS vessels can berth here.
Fresh water
Fresh water can be ordered via your agent when preregistering your visit. The capacity is approximately 100 m3 per hour.
Port dues
Information about charges for mooring, waste management, linesmen, water and more can be obtained from your agent or in Ports of Stockholm's pricelist.
Book a yacht berth at Stadsgården