Understanding authorization cards
You need an authorization card to clearly show that you are authorized to be in a port facility. Your card is encoded with the information that Ports of Stockholm needs to be able to identify who you are and that you are allowed to be in or at the port facility.
You need an access card to be able to open doors and gates. The appearance of these cards can differ depending on who you are and where you need to go.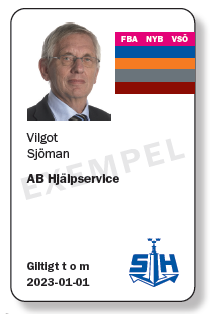 A letter code provides access only to the port facility or facilities indicated by the code, within the area indicated by the port colour code.
No letter code means that access is authorized for all of the port facilities within the area that the colour code indicates.
Colour codes

Pink - Cruise area (FBA, FLA, FKT, FTE, NNC, NYB, SBI, SKN, SMA, SME, SVI, VHA, VSÖ)

Dark blue - Ferry area (FTE, NOR, SBI, SVI, VHA)

Orange - Kapellskär

Grey - Nynäshamn (NNO, NNC)

Brown - Hammarby locks

Light blue - All port areas
Letter codes
FBA - Frihamnen 650
FKT - Frihamnen 638
FLA - Frihamnen 634
FTE - Frihamnen terminal
NNC - Nynäshamn Cruise
NNO - Nynäshamn
NOR - Stockholm Norvik Port
NYB - Nybrokajen
SBI - Birka terminal
SKN - Skeppsbron 105-107
SMA - Stadsgården 167
SME - Stadsgården 160
SVI - Viking terminal
VHA - Värtahamnen
VSÖ - Värtan 521-523