Cruise traffic at the Port of Nynäshamn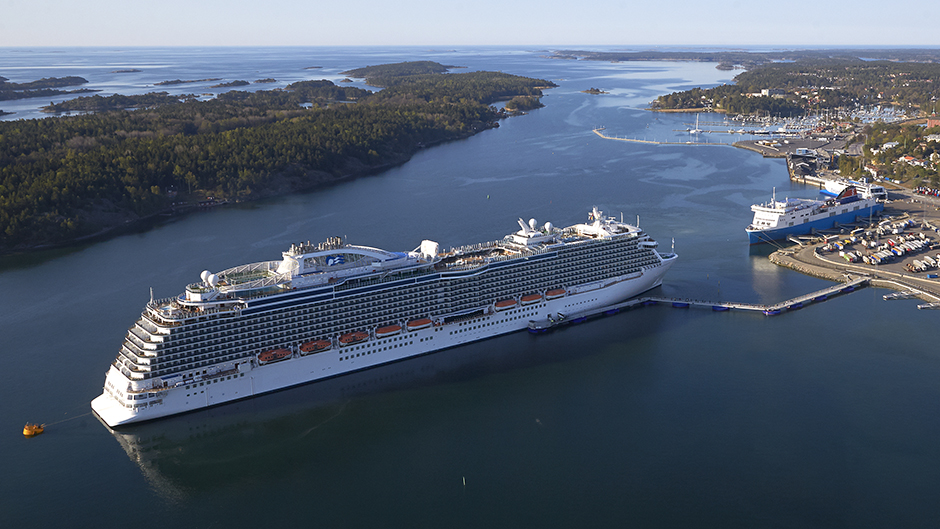 The Port of Nynäshamn has the capacity to accommodate the very largest international cruise ships. The advantages of Nynäshamn are short approach lanes and less dependency on wind and light conditions.
Seawalk provides service for the cruise ships
Ports of Stockholm offers a unique quay solution for the cruise traffic at the Port of Nynäshamn using a pier known as a Seawalk, a retractable, manoeuvrable floating pier.
When a cruise ship is not in port the Seawalk is retracted. When the ship approaches the port the pier is extended out towards the vessel like an extendible measuring rule, and the ship can then tie up alongside. This allows passengers and luggage to be disembarked or embarked via the Seawalk. It is also possible to drive smaller vehicles along the pier.
Facts about the Seawalk
It takes around ten minutes to extend the pier.
The pier is 260 metres long.
The pier has 10 pontoons, each of which measures 10 metres in diameter.
The outer section is 5.5 metres wide and the inner section is 4.5 metres wide. The pierhead has a turning circle area that is 9.5 metres in diameter.
An engine located at the pierhead drives the pier.
The pier weighs around 450 tonnes.
In a half hour the pier can disembark 3000 people.
The pier is specially constructed for the climate at the Port of Nynäshamn with regard to wave heights, ice impaction forces etc.
The mooring equipment can be used in wind speeds of up to around 12 m/s.