Apply for access to Ports of Stockholm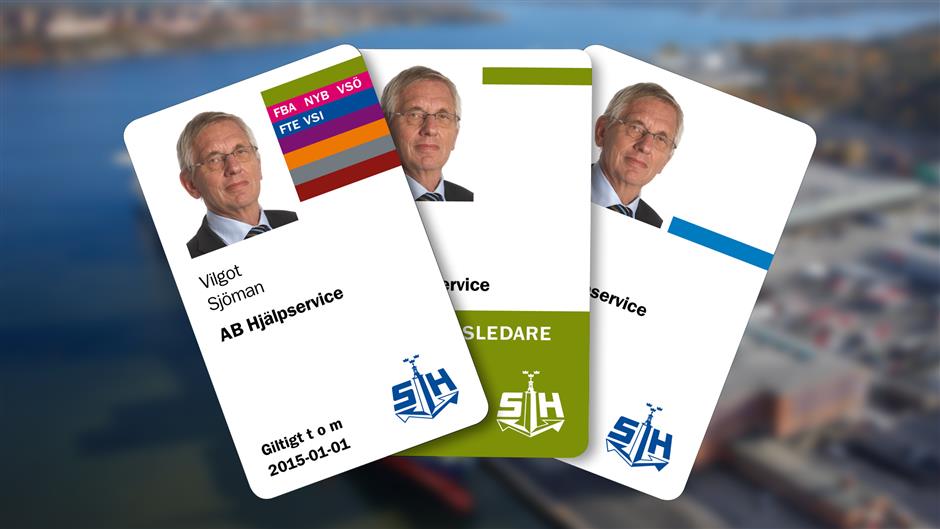 To enter a port facility in Kapellskär, Nynäshamn or Stockholm you must apply for access authorisation. You must comply with Ports of Stockholm's safety regulations and you must be aware of your responsibilities concerning your access authorisation card. This is necessary both for access to be granted and to ensure that port facilities are secure and safe locations for employees and visitors alike.
There are specific provisions and regulations that apply for working at Stockholm's oil ports. For exemple special permit approval must be obtained before any work can begin.

Read more about Ports of Stockholm's safety regulations
Will you be doing work in or visiting a port facility at one single occasion? Then you should apply for a temporary access and authorisation card via your contact person at Ports of Stockholm. The card must then be returned the same day it was retrieved.
Important facts about your application
Failure to comply with current regulations, terms and conditions can result in fines and/or exclusion from port facilities belonging to Ports of Stockholm.
Loss of your card must be notified immediately to Ports of Stockholm.
Each access authorisation card issued is personal and must be treated as a valuable personal identification document. You are therefore never allowed to loan your card to anyone.
A fee may be charged by Ports of Stockholm for the issue of an access authorisation card.
If you have been issued an access authorisation card you must wear your card so that it is clearly visible and show your card at port facility checkpoints.
You must make sure that no unauthorised person accompanies you when you are entering or leaving port facilities and buildings.
It is your responsibility to ensure you have a valid card and to renew your card in good time.
If there is any change in the circumstances of your employment, the port facility/building you are working in, or change in other information such as your contact details, you are obliged to inform Ports of Stockholm about this.
If you do not want to, or for some reason cannot apply digitally, please contact tilltrade@stockholmshamnar.se. They will help you book an appointment to apply on site at Port of Stockholm's head office in Frihamnen port.
Fees (excluding VAT)
A fee of SEK 341 is charged if you are not doing work on behalf of Ports of Stockholm.
If you are granted an authorisation and access card and do not collect the card within 14 days you will be charged a fee of SEK 341.
Expired authorisation and access cards must be returned to Ports of Stockholm within 14 days of the date of expiry. If you do not return your card, or if your card is damaged or lost, Ports of Stockholm will charge you a fee of SEK 566.
Please note that Ports of Stockholm only invoice corporate customers. Private customers pay by card or swish at the reception.
How to apply for access to a Ports of Stockholm property or port area
1. Complete the following online form:
Application for access to Ports of Stockholm (external link in Swedish)
You can also use this form to apply for a new card, change expiry date or if you wish to change your details or your access authorisation.
2. Submit a photograph
We need a photograph of you. Name the photo your first and last name and your company, and send it to tilltrade@stockholmshamnar.se. Read more under Regulations for an approved photograph
If you want to change the expiry date of your card, we already have your photo. You do not need to send it one more time.
You can also have your photograph taken at the Ports of Stockholm Reception, in the Magasin 2 building at Frihamnen.
If you would like to provide the administrator processing your application with additional information, write this in the same mail you submit with your application and photograph.
3. Complete the online Port Safety and Security training course
Within two weeks of submitting your application you must complete the online Port Safety and Security training course (if you have not already completed it within the last year). Login information will be sent to the e-mail address you have provided. Your application will be processed after you have completed the online training and passed the test.
You can access the online training on any computer connected to the Internet. The course takes about 20 minutes to complete and approval is valid for one year. If the training is not completed within the time limit your application will be rejected automatically.
The training course is available in both English and Swedish. If you have applied for access for a duration exceeding one year you will be sent a reminder by e-mail when it is time to take the training again.
When your application is being processed
Please make yourself available if the administrator processing your application needs to ask you questions. This will make processing more efficient. The normal processing time for access authorisation is 4-5 working days after a complete application has been submitted. A complete application means that the online Port Safety and Security training course is completed and that a photo has been submitted. Incomplete applications cannot be processed and are denied.
When a decision has been reached
Ports of Stockholm will notify you by e-mail when your authorisation and access card is ready for collection. You must collect and sign for your card at the Ports of Stockholm Reception within two weeks of the date the notification mail was sent. After that the application case will be closed. The card can only be collected by the person the card has been issued to and identification must be presented.
Questions about access or the application?
tilltrade@stockholmshamnar.se
Telephone +46 8 670 27 81

Other questions or enquiries about your visit:
reception@stockholmshamnar.se
Telephone +46 8 670 27 10
Cancel/inactivate your card?
tilltrade@stockholmshamnar.se
Telephone +46 8 670 27 81
Read about how Ports of Stockholm processes of your personal information