Stockholm Norvik Port as a hub and powerbank for sustainable transport of the future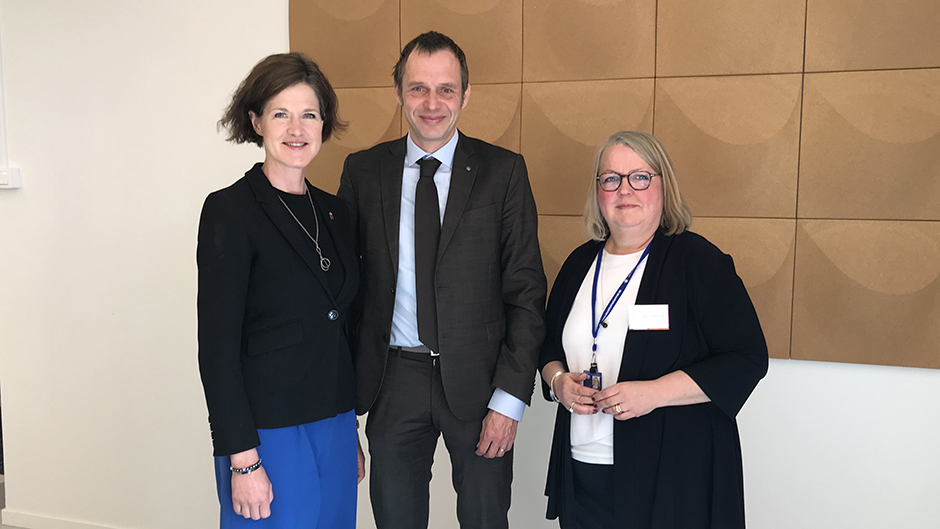 How can Sweden's most modern freight port be a strategic hub and partner for more sustainable transport of goods? This question was discussed when the County Administrative Board of Stockholm and Ports of Stockholm brought together industrial, municipal and regulatory agency representatives for a roundtable discussion at Stockholm Norvik Port.
On Wednesday 26 April, representatives from the County Administrative Board of Stockholm, Ports of Stockholm, the Municipality of Nynäshamn, Region Stockholm, trade and industry, and the regulatory agencies responsible for innovation and society's transition to a sustainable energy system gathered for a roundtable discussion.
The topic discussed was the port as a hub for more sustainable transport of goods. The ports of today are more than just part of the maritime transport infrastructure, and the region's new freight port, Stockholm Norvik Port, has the potential to be a strategic hub and partner when it comes to challenges such as sustainability, electrification and digitalisation that the Greater Stockholm Region faces.
"In collaboration with the County Administrative Board of Stockholm, we are initiating a collective effort to develop the infrastructure around the port for electrification, the fuels of the future, and more sustainable transport of goods overland and by sea in the Stockholm and Greater Stockholm Region. We know that the invited stakeholders hold many of the keys to being able to increase the pace of efforts and that Stockholm Norvik Port can be a hub in this context," explains Jens Holm, Chair of the Board of Ports of Stockholm.
The discussions focussed on fossil fuel-free transport and the needs of shipping for infrastructure and fuels. The discussion resulted in a continuing collaboration. This will be aimed at defining a clear roadmap that steers Stockholm Norvik Port to become a sustainable hub and powerbank for transport, energy transition and an increased shift of goods from land to sea and railway transport.
"Collaboration between different stakeholders is vital to the region's future. We had fruitful discussion about Stockholm Norvik Port as a hub for sustainable transport and, together with some of the most important stakeholders in the county, we have discussed how we can tackle the challenges that are obstacles to growth, energy supply and sustainable development. I look forward very much to continuing to work together to accelerate the pace of positive development," states Anna Kinberg Batra, Stockholm County Governor.
Stockholm Norvik Port has the best possible location in the Baltic Sea. With short approach lanes and efficient intermodal transport links to the rest of Sweden, the port has the potential to play an important role in the transition of the transport sector.
Press image
Link to press image (external link)
Please contact us
Ingrid Hansson, Public Relations Manager, Ports of Stockholm
+46(0)70-770 27 47, ingrid.hansson@portsofstockholm.com
In the photo: Anna Kinberg Batra, Stockholm County Governor, Jens Holm, Chair of the Board of Ports of Stockholm and Magdalena Bosson, CEO Ports of Stockholm