New Ports of Stockholm customer plans autonomously operated ferry in the Stockholm city centre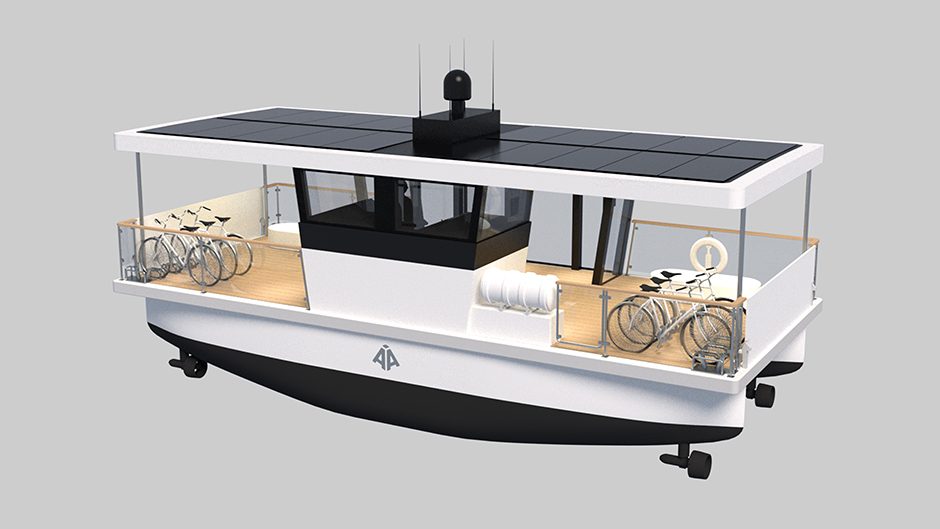 A new Ports of Stockholm customer, shipping company Torghatten, will this spring introduce an electrically powered autonomously operated ferry service across Riddarfjärden in the Stockholm city centre. The initiative is a sustainable and innovative addition for the general public and is fully aligned with Stockholm's quays strategy.
Norwegian shipping company Torghatten plans to have services in place this spring in Riddarfjärden, between two inner-city quays. The ferry that will operate on the crossing is an autonomously operated electric vessel that runs on batteries. It has been designed and built by the Bröderna Aa shipyard in Hyen, Norway and the autonomous operation system is provided by technology supplier Zeabuz in Trondheim, Norway.
The initiative is fully aligned with Ports of Stockholm's quay strategy, which has been developed together with the City of Stockholm, with the intention of creating more vibrant city-life at the inner-city quays, in addition of providing good preconditions for shipping and water-borne transport.
"Many of the major cities around the world have problems with traffic congestion, capacity and environmental and air pollutants. Our innovative technology solution, the first of its kind in the world, creates real sustainable urban mobility," says Reidun Svarva, Business Development Manager at shipping company Torghatten AS.
Torghatten and Zeabuz intend that the ferry will run 15 hours per day. The batteries will then be recharged overnight. The ferry can carry 24 passengers.
"It is pleasing to see a new boat service being introduced that makes commuter life in Stockholm easier. In a city predominantly built on islands, water-borne traffic has the potential to contribute even more to sustainable transports. The autonomously operated ferry crossing of Riddarfjärden is an innovative addition that will hopefully be a great asset to the city's residents," says Clara Lindblom, Chair of the Board at Ports of Stockholm.
Prior to the service coming into operation in Stockholm, the software has been tested in service operations with passengers in Trondheim. Technology supplier Zeabuz has also developed their own simulator to perform thousands of virtual crossings of Riddarfjärden before the ferry is launched. Initially there will be an operator aboard to make sure everything works as it should. After that, the ferry will be operated entirely from a land-based control room.
"A ferry running without a manual operator might sound a bit risky, but it is just as safe to use an autonomous ferry as a conventional ferry," adds Reidun Svarva. "The residents of Stockholm can feel safe in the knowledge that our 150 years of experience from the shipping business in Norway means we are doing this in a safe way."
In June 2022 the Stockholm Municipal Council ratified a new quay strategy for Stockholm's beautiful and popular inner-city quays. Much of the work involves assuring there are more possibilities for water-borne shipping and transport alternatives in the heart of the city, among other things through developing strategic quay locations for public transport.
Press image
To image at Flickr (external link)
Please contact us
Ingrid Hansson, Public Relations Manager, Ports of Stockholm
+46(0)70-770 27 47, ingrid.hansson@portsofstockholm.com