More housing modules take the smart sea-route direct to Stockholm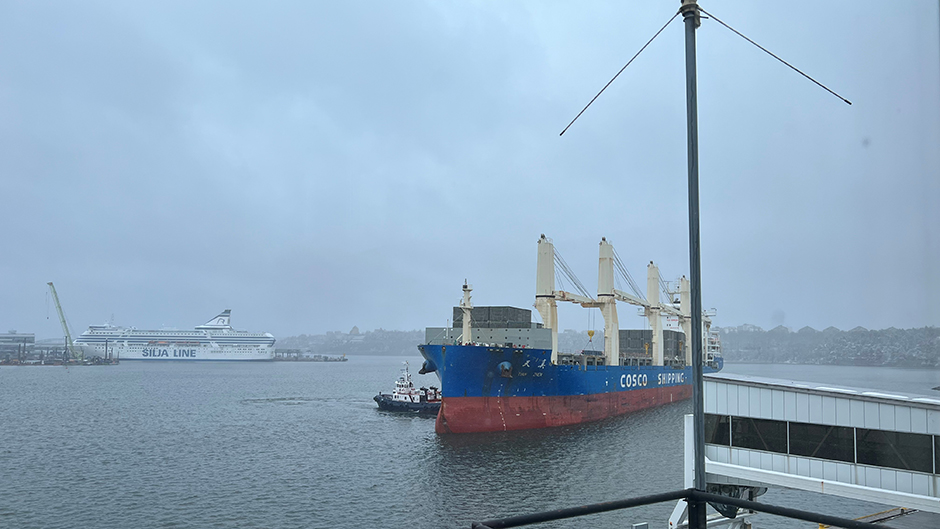 COSCO´s Tian Zhen vessel is bringing another oversize project load directly to Frihamnen Port in Stockholm. The load consists of housing modules for use in building projects in the Stockholm region. Transporting goods by sea directly to the final destination has major sustainability, efficiency and cost benefits.
COSCO´s Tian Zhen vessel arrived in Stockholm from East Asia on 5th April, carrying 231 housing modules. The housing modules were unloaded over the Easter weekend at Frihamnen Port and will be used directly in a construction project in Spånga in the northern suburbs of Stockholm.
"We are very happy to be able to offer customers the possibility to take the smart sea-route, direct to central Stockholm and as close to their final destination as possible. This mode of transport eases the burden on the road network, reduces the impact on the environment and is also more cost-efficient," explains Nicklas Ebersson, Marketing Manager Cargo, at Ports of Stockholm.
Utilizing a central port such as Frihamnen for project loads gives customers additional freight shipping alternatives to and from the Stockholm region, which is Sweden's largest consumer area by some margin. This further strengthens Ports of Stockholm's position as a logistics hub for efficient and sustainable transport.
"Ports of Stockholm offers us a unique opportunity to transport more efficiently. Being able to ship loads to a location only a few kilometres away from the construction site is an incredible advantage. The housing modules are oversize and the costs are high if they need to be transported individually through Sweden on the country road network ," explains Erik Eriksen, CEO and partner for COSCO Shipping Line (Sweden) AB.
The central inner-city quays are an important complement to the major freight ports, Stockholm Norvik Port, Port of Nynäshamn and Port of Kapellskär. Together, Ports of Stockholm's ports enable climate-smart transport to the entire region.
Press image
Link to press image (external link)
Please contact us
Ingrid Hansson, Public Relations Manager, Ports of Stockholm
+46(0)70-770 27 47, ingrid.hansson@portsofstockholm.com