Container cranes at Stockholm Norvik Port get regal names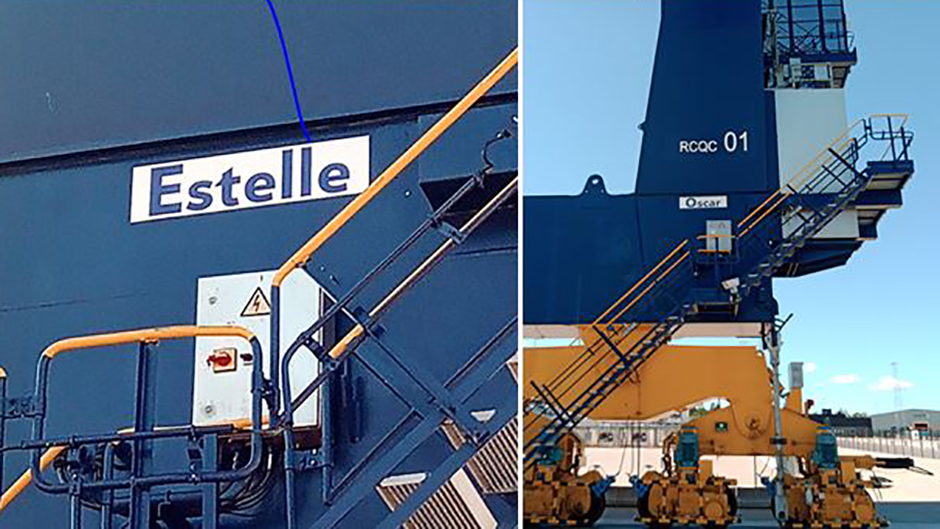 Earlier in the year, Stockholm Norvik Port was officially inaugurated by Swedish Royalty and the port's two container cranes were given the names Estelle and Oscar. Now the nameplates have been installed on these 120-meter tall cranes.
On 26 April this year, Sweden's newest freight port was officially inaugurated by His Majesty The King and Her Royal Highness The Crown Princess. On the same day the container cranes were named after Princess Estelle and Prince Oscar. The nameplates have now been installed on the cranes.

"It was an honour and a privilege to have a royal official opening of Stockholm Norvik Port with both HM The King and HRH The Crown Princess in attendance. These 120-meter tall and stately container cranes were also given the regal names Estelle and Oscar," explains Magdalena Bosson, CEO Ports of Stockholm.
It is traditional to name port cranes and Stockholm Norvik's container cranes now have a gilding of royal splendour. These two super-post-Panamax cranes are some of the largest on Sweden's east coast and can handle the largest container vessels operating in the Baltic Sea. The cranes stand 120-meters tall in their maximum positions and have a lifting capacity of just over 80 tonnes. The cranes are remotely operated from the port's main building, with no operator on the cranes themselves, and 80 percent of the lifting is automated.
Ports of Stockholm, a City of Stockholm company, opened the gates of Stockholm Norvik Port for business already in 2020, entirely on schedule and on budget. Sweden's newest freight port is a RoRo and container port with an ideal location in the Baltic Sea. Short approach lanes and efficient transport links provide direct access to one of the most rapidly growing regions in Europe.
Press images
Link to press image (external link)
Link to press image (external link)
Please contact us
Ingrid Hansson, Public Relations Manager, Ports of Stockholm
+46(0)70-770 27 47, ingrid.hansson@portsofstockholm.com