Container Terminal Frihamnen, CTF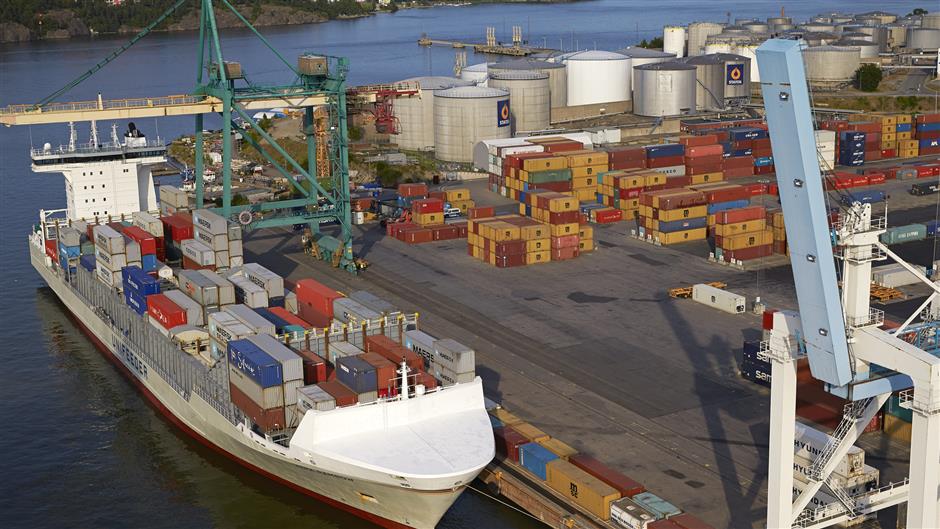 The Container Terminal Frihamnen (CTF) offers great opportunities with its proximity to Sweden's largest market. Within a 200 km, three hour, radius you can access Sweden's largest consumer, and most business dense, area with over three million inhabitants.
Services at the terminal
At the Container Terminal Frihamnen we offer flexible terminal services in close collaboration with our customers. Hutchison Ports is the operator. Read more about Hutchison Ports Stockholm (external link)
Through the collaboration with Hutchison Ports, Stockholm is integrated into the global freight routes.
Supporting services:
Foodstuff Control by the Swedish National Food Administration (Livsmedelsverket)
Strip and Stuff
Storage
Heated storage
Electricity connection
Pre-trip Inspection (PTI)
Cleaning
Repairs
Feeder connections
Several feeder ships call each week at the Container terminal Frihamnen, providing direct connections to Antwerpen, Hamburg and Bremerhaven, as well as other ports.
The connections between the container terminal in Stockholm and destinations such as Antwerpen and Hamburg enable us to offer our customers the opportunity to transport goods between the ports instead of on land. This is more cost effective and has a lesser impact on the environment.
The Container terminal Frihamnen works together with:
Rail and sea transport in synergy
It is important that transport between overland services and shipping functions as optimally as possible with respect to time, economics and efficiency.
The Container Terminal Frihamnen has collaboration with GreenCargo, a nationwide rail transport solution provider. We are also continuously working to develop rail transport solutions for our customers so that services meet their needs as far as possible. Please contact our collaborative partner for more information.
To GreenCargo´s website (external link)
Opening hours
Monday-Thursday 05.15 - 16.45, Friday 05.15 - 15.45
Address
Hutchison Ports Stockholm
Lindarängsvägen 91
S-115 27 Stockholm
Phone: +46 8 670 28 50
containerinfo@ctf.se
Stockholm Norvik Port opens 2020
In May 2020 Ports of Stockholm opens a brand new container terminal.
Read more about Stockholm Norvik Port