Modular construction units sail from Piteå to Stockholm Norvik Port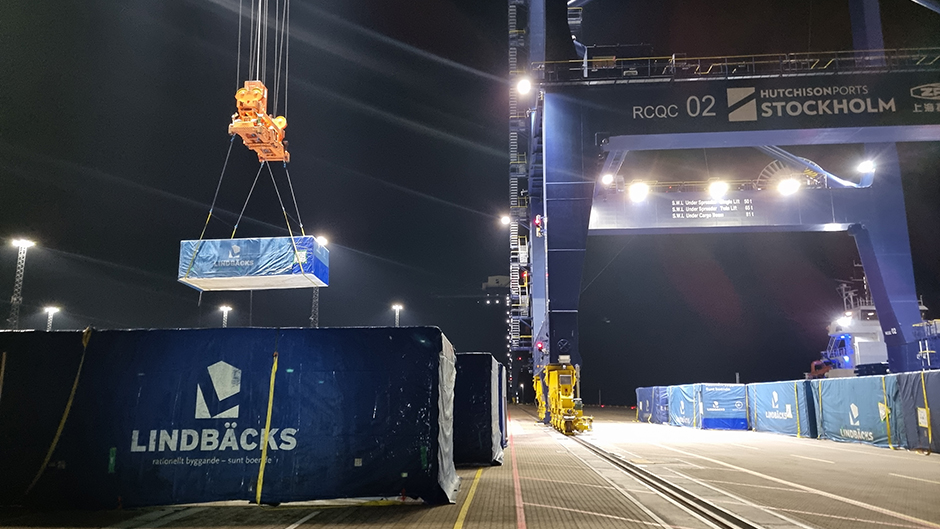 Large modular construction units are being transported by sea to the growing Stockholm region. Transporting project loads by sea directly to their final destination has major sustainability, efficiency and cost benefits.
More and more project loads can now be transported by sea directly to the growing Stockholm region. The most recent arrival of this type is a consignment of modular construction units that have sailed from Piteå in northern Sweden directly to Stockholm Norvik Port and their final destination of Nynäshamn, where the buildings will be installed. The load comprised 70 modular construction units from Lindbäcks Bygg AB, and there could be more loads in the future.
"A great advantage of Stockholm Norvik is its proximity to our construction site, which is only eight kilometres from the port. This was the initial reason for us contacting the port. Stockholm Norvik Port is very impressive and modern and I was really surprised how incredibly cooperative and flexible the port has been, considering that we are a relatively small customer. I am hoping we will continue to collaborate," says Sofia Franzén, Logistics Developer at Lindbäcks Bygg AB.
Hutchison Ports operates the container terminal at Stockholm Norvik Port and believes there are advantages to handling project loads in addition to container transport. The demand for project loads is increasing as the Stockholm region grows, and the port is perfectly placed to meet this demand.
"It is fantastic to see the forward-thinking companies who are using ships instead of overland haulage and we are proud to be able to provide this service to the Municipality of Nynäshamn as it grows," states Mike Barry, Sales and Marketing Officer, Hutchison Ports Stockholm.
"It is beneficial that we can offer customers the possibility to transport by sea as close to the final destination as possible. This mode of transport is more sustainable and efficient," explains Nicklas Ebersson, Marketing Manager Cargo, at Ports of Stockholm.
Compared to other Baltic Sea ports, the short, open approach lanes to Stockholm Norvik Port make transport more cost effective. Vessels with project loads do not need tugboats and pilotage costs can be kept to a minimum. The modular construction units are unwieldy oversize loads and the costs of transporting the units through Sweden individually by road are high. Extra-wide vehicles also need special permits.