The largest RoRo vessels can call at Stockholm Norvik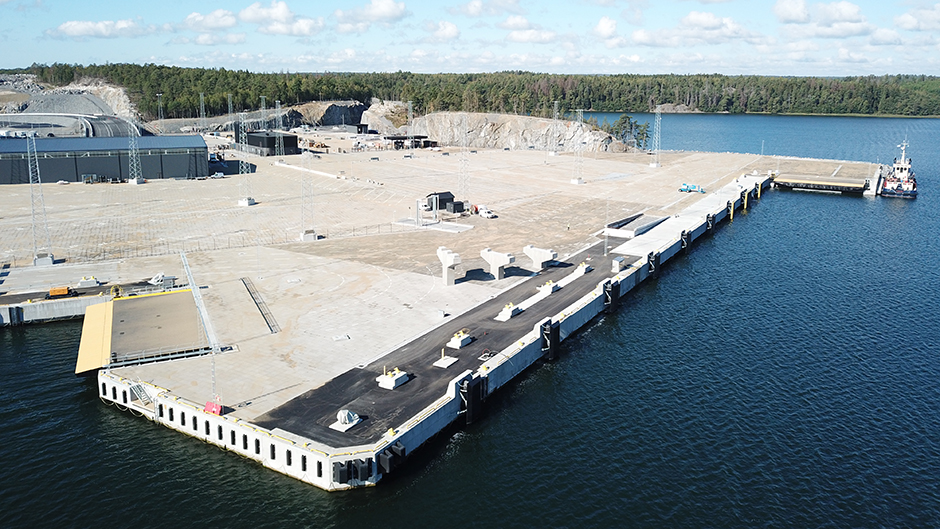 The RoRo terminal at Stockholm Norvik Port has two quay-berths for RoRo ships. Both quay-berths are equipped with robust ramps with dimensions to fulfil the needs of the future, both in terms of size and capacity. There is space here to accommodate the very largest RoRo vessels.
The RoRo terminal at Stockholm Norvik Port opens this autumn. Here there are two new quay berths, both of which are dimensioned to be able to accommodate vessels larger than those currently calling at Ports of Stockholm.
One of the quay-berths has a length of 280 metres and a depth of 10.5 metres. The other quay-berth has a length of 230 metres and a depth of 10 metres. The ramps at the quay-berths each weigh 150 tonnes and have a width of 30 metres. One of the quay-berths has also been prepared for the addition of an upper ramp to further increase loading and unloading capacities when the need arises. The ramps are hydraulically controlled and can withstand a load equivalent to three juggernauts travelling side-by-side.
These are the final two of a total of nine ramps that have been delivered to Ports of Stockholm in recent years. Five are installed at the recently newly built Värtahamnen Port and two are at the reconstructed Port of Kapellskär. All of the ramps come from the same manufacturer and have essentially the same design.
The container terminal at Stockholm Norvik Port opened already in May this year. The port has the best Baltic Sea location imaginable. Short shipping approach lanes and efficient overland transport links provide direct access to one of the most rapidly growing regions in Europe.