Energy efficient buildings completed at Stockholm Norvik Port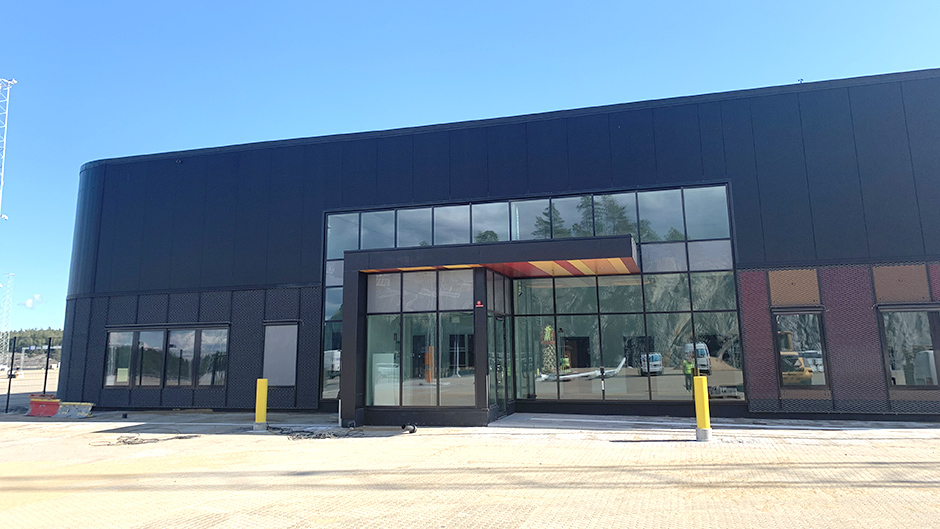 Ports of Stockholm's new premises for shipping companies and business partners are now ready for use at Stockholm Norvik Port. All of the buildings are energy efficient, with heating and cooling sourced from energy wells.
Ports of Stockholm has constructed new buildings adapted for customers and business partner at the RoRo terminal at Stockholm Norvik Port. The building for shipping companies is ready for occupation and has office space for at least three shipping companies. Wåhlin Arkitekter AB designed the building in the same style as the other buildings at the port, with curved corners, black frontage and distinctive accent colours over the entrance.
"When it comes to space inside the buildings, we have kept in mind that we are a developing port. The short approach lanes, and the fact that Stockholm is one of Europe's most rapidly growing regions, means that we are also building for future needs. Some of our tenants have already moved in, and we are looking forward to offering our existing customers modern, purpose-built and energy efficient premises," says Nicklas Ebersson, Marketing Manager Cargo at Ports of Stockholm.
Ports of Stockholm has also constructed a building for the Swedish National Food Agency, which is one of the country's three port border controls for food. The Swedish Board of Agriculture is also in the same building. The building is located between the RoRo and the container terminal parts of the port so that there is efficient goods inspection for both operational areas.
There is also a Swedish Customs building for the inspection of imported goods.
In total, six major buildings have been constructed by Ports of Stockholm at Stockholm Norvik Port, all of which are now completed. Each building is energy efficient and draws heating and cooling from energy wells, known as borehole heat exchanger.
Press images at Flickr
To image 1 (external link)
To image 2 (external link)
To image 3 (external link)
Please contact us
Ingrid Hansson, Public Relations Manager, Ports of Stockholm
+46(0)70-770 27 47, ingrid.hansson@portsofstockholm.com.