The Stockholm Norvik Port railway tunnel is ready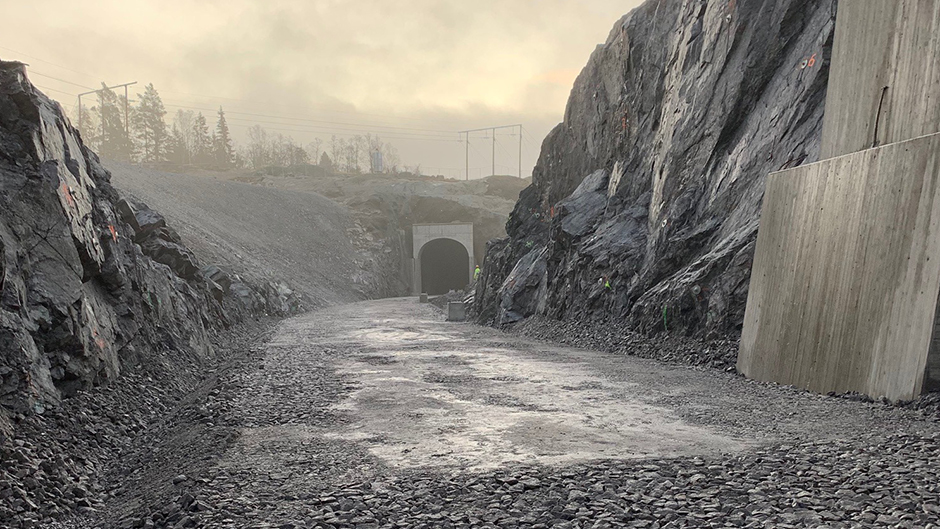 The new railway tunnel to Sweden's new mega-port is ready. Ports of Stockholm is providing customers with the best possible preconditions to efficiently and sustainably transport goods to and from the Stockholm Norvik Port by railway.
The completion of the new railway tunnel is yet another milestone that has been reached in the construction of the Stockholm Norvik Port. The tunnel is part of the industrial branch line that Ports of Stockholm is constructing to the new freight port. In total four kilometres of rail track is being built, including 270 metres that runs through the tunnel.
"The Stockholm Norvik Port is a unique project and our investment in the railway creates the best possible preconditions for our customers to transport goods efficiently and sustainably," says Nicklas Ebersson, Marketing Manager Cargo at Ports of Stockholm.
The Stockholm Norvik Port will open in 2020 and will replace the existing container terminal at Stockholm's Frihamnen Port. The new container terminal will be run by Hutchison Ports, one of the world's leading container terminal operators. The RoRo (rolling goods) section of the Stockholm Norvik Port will also open in 2020. This will be run as part of Ports of Stockholm's own business operations.
Press images at Flickr
Press image 1 (extern länk)
Press image 2 (extern länk)
Press image 3 (extern länk)
Press image 4 (extern länk)
Please contact us
Ingrid Hansson, Public Relations Officer, Ports of Stockholm, +46 70-770 27 47, ingrid.hansson@portsofstockholm.com.