New state-of-the-art building and improved operative area for Stockholm's important RoRo traffic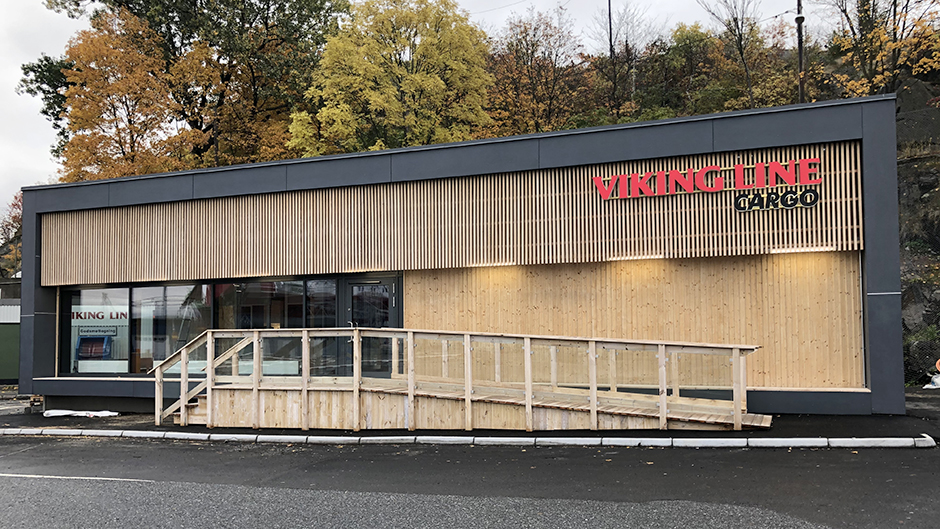 Ports of Stockholm and Viking Line have jointly invested in a new cargo expedition building for Viking Line's cargo traffic. This will enable more efficient cargo management, facilitate the forwarding of rolling goods, and will make things easier for haulage vehicle drivers.
"Viking Line is one of our most long-term and largest customers. It is extremely gratifying to have the possibility to improve our mutual product and jointly work to make operations more efficient," says Johan Wallén, Sales and Marketing Manager at Ports of Stockholm.
Together with Viking Line, Ports of Stockholm has invested in new storage and parking areas and a state-of-the-art building that has been purpose-built for the complex logistics of this business area. The result is more efficient cargo management and an optimal traffic flow at the port for haulage vehicle drivers and the management of trailers.
"Our collaborations with Ports of Stockholm work very well and we are very pleased to be able to provide our customers with a significantly improved service. The personnel have also gained a very nice and pleasant workplace," says Anne Staf, Viking Line Terminal Manager.
The new cargo expedition building is ready for use and will replace the previous Viking Line cargo building, which will be removed to give more storage and parking space for rolling goods, trucks and haulage vehicles. All of the materials have been selected using SundaHus, a database that enables deliberate choices to be made based on environmental and health perspectives. The building has robust walls and ceilings for sound-insulation from the noise of the port traffic and to create a good working environment for the personnel. Large glass expanses give the personnel a good overview of operations at the port.
The new freight expedition building is part of the EU's NextGen Link project that aims to upgrade the Turku-Mariehamn-Stockholm shipping route with a new LNG-vessel and to improve the infrastructure at the ports. The project has been granted funding from the EU programme Connecting Europe Facility (CEF), within the Motorways of the Seas framework.

Ports of Stockholm is Sweden's third-largest freight port. Annually 9.6 million tonnes of goods are transported via Ports of Stockholm's ports, 7.2 tonnes of which are transported using RoRo services. This makes Ports of Stockholm one of the ports handling the most RoRo units nationwide.
Press image
To image at Flickr (external link)
Please contact us
Ingrid Hansson, Public Relations Officer, Ports of Stockholm, +46 70-770 27 47, ingrid.hansson@portsofstockholm.com.