Halfway stage in the construction of Sweden's new freight port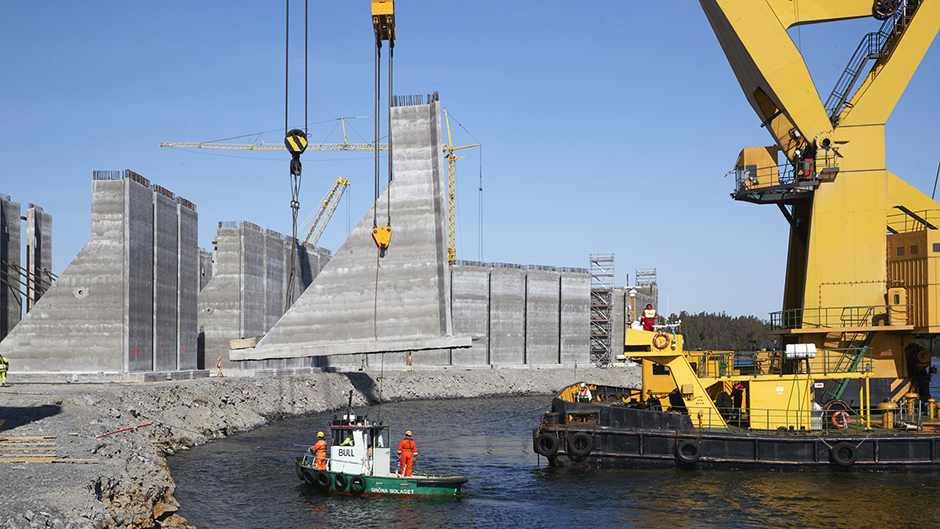 The Stockholm Norvik Port will open in 2020. The halfway stage has been reached and there is an incredible amount of activity at the construction site, where buildings, bridges and quays are emerging, while the route for the railway track is simultaneously being prepared.
Construction of the Stockholm Norvik Port has reached halfway and the features of the new port are beginning to be seen; a mighty construction, sixty kilometres south of Stockholm.
Buildings, quays and bridges over the future railway are emerging simultaneously. Gigantic supporting casement walls that have been cast on-site are being moved into place on the sea bed with millimetre precision using enormous floating structures. Both manpower and machinery pieces from the northern Pajala mine are on hand to take care of the rock material and prepare the way for the railway track.
"The Stockholm Norvik Port is long-awaited. Volumes of both RoRo and container traffic are increasing and vessels are becoming ever larger. Stockholm is growing and the possibilities to create sustainable goods provision is high on the agenda for both ourselves and our customers," says Ports of Stockholm Managing Director, Johan Castwall.
There are now around 350 people on-site and more than 500 000 hours have been worked at the Stockholm Norvik Port. Progress is being rapidly made to be able to welcome the first vessel in 2020.
"I am extremely proud of my organisation and of all of the contractors on-site. There is a wealth of collective knowledge, both with regard to expertise within specialist areas and of port construction in general. Building ports is something that we at Ports of Stockholm have become very good at through several major projects," states Magnus Sjöberg, Ports of Stockholm Project Manager.
Read more about Stockholm Norvik Port
Press images on Flickr
Press image 1 (external link)
Press image 2 (external link)
Press image 3 (external link)