Finally cruise season begins in Stockholm!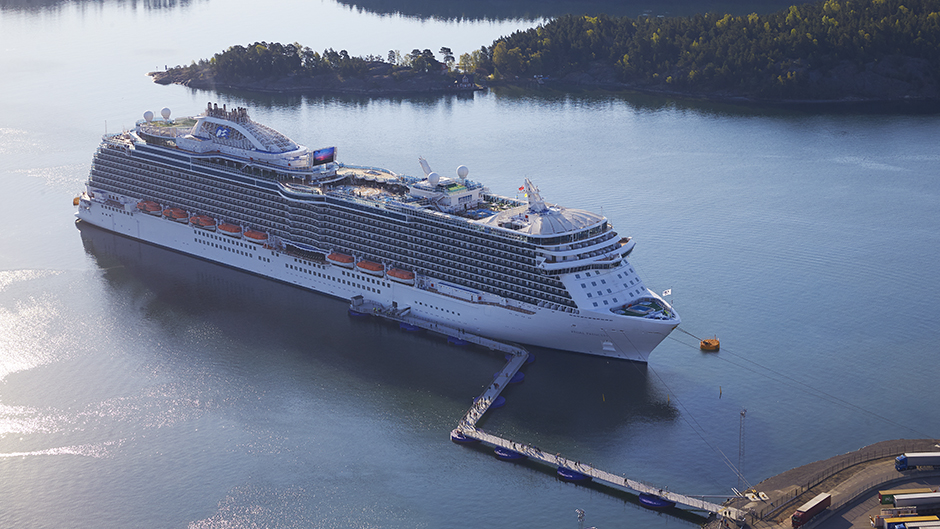 The arrival of the AIDAdiva the last weekend in April marks the start of the 2018 cruise season at Ports of Stockholm. Stockholm is a popular destination and a record number of passengers are expected during the season, bringing a huge boost for the tourist industry, which is one of the fastest growing revenue sources in Sweden.
The cruise season starts at Ports of Stockholm at 8 am on Saturday 28 April when the AIDAdiva calls at the Stadsgården quay. This year it is anticipated that 276 cruise ships will call at Ports of Stockholm during the cruise season, which runs from April until October.
"A record number of cruise passengers are anticipated this year, with around 650,000 passengers expected to visit the capital city. Stockholm is a very popular destination and cruise tourism plays a central role in further strengthening Stockholm as a tourist city and tourist destination," says Stefan Hansson, Chair of the Board at Ports of Stockholm.
Increasing numbers of people are choosing a cruise as their vacation form and Stockholm is a very popular cruise destination. Stockholm is counted as one of the "Big five", together with Helsinki, Tallinn, Saint Petersburg and Copenhagen.
"We are proud to show off our popular Stockholm. Cruises are a rapidly growing travel format that is now popular with all ages, from families with small children to pensioners," explains Stefan Scheja, Ports of Stockholm Cruise and Ferry Manager.
Thirty-four of the cruise ships will call at Nynäshamn and use the unique 260 meter-long retractable Seawalk floating pier, which facilitates embarkation and disembarkation.
All of the anticipated cruise ship calls are included in the list of vessel calls on this website, as well as in the popular Cruise Stockholm app.
Maiden calls in 2018
Many cruise ships and shipping companies will visit Stockholm for the first time this summer. New this year are:
Hanseatic – 28 April
MSC Preziosa – 1 May
Norwegian Breakaway – 18 May
Mein Schiff 1 – 27 May
TUI Discovery – 29 May
Star Breeze – 12 June
Seabourn Ovation – 16 June
Silver Spirit – 7 July
International cruise traffic at Ports of Stockholm
| | | | | | |
| --- | --- | --- | --- | --- | --- |
| | 2018* | 2017 | 2016 | 2015 | 2014 |
| Cruise calls | 276 | 263 | 230 | 247 | 264 |
| - turnaround calls | 69 | 73 | 57 | 53 | 42 |
| Passengers | 650,000 | 600,000 | 490,000 | 530,000 | 467,000 |
*estimated
Environmental facts about cruise ships at Ports of Stockholm
At Ports of Stockholm vessels can offload black and grey water, or in other words sewage from showers, toilets and galley wastewater. Offloading of sewage is included in the harbour dues and wastewater management facilities are available at all quay-berths in Stockholm. In recent years 80 percent of cruise ships have offloaded sewage at Ports of Stockholm and the vessels also often have their own water purification facilities aboard.
Link to the facts and film showing how sewage is managed
The offloading of waste is also included in the harbour dues, and vessels that offload sorted waste pay a reduced tariff.
International environmental facts
The international regulations for the discharge of sewage into the Baltic Sea will be more stringent from 2019 onwards for new vessels, and from 2021 onwards for existing vessels. The ban on sewage discharge means that all passenger vessels must either offload their sewage when in port or must be equipped with approved purification capabilities of a higher standard than those of the present day.
Since more stringent regulations for sulphur emissions came into effect in the Baltic Sea the amount of sulphur emissions from vessel traffic in the area has significantly reduced. For example, vessels must use fuels with a low sulphur content, scrubbers or run on LNG. Since 1 January 2015 the limit for permissible sulphur amounts in vessel fuel is 0.1 percent in the Baltic Sea, the North Sea and the English Channel (SECA area). Outside the SECA area sulphur levels currently may not exceed 3.50 percent by weight, but these requirements will also soon be made more stringent.
Efforts are also ongoing for more stringent emission requirements for nitrous oxide and carbon dioxide.
Press images on Flickr
Link to press images (external link)