The Norvik heroes building the new freight port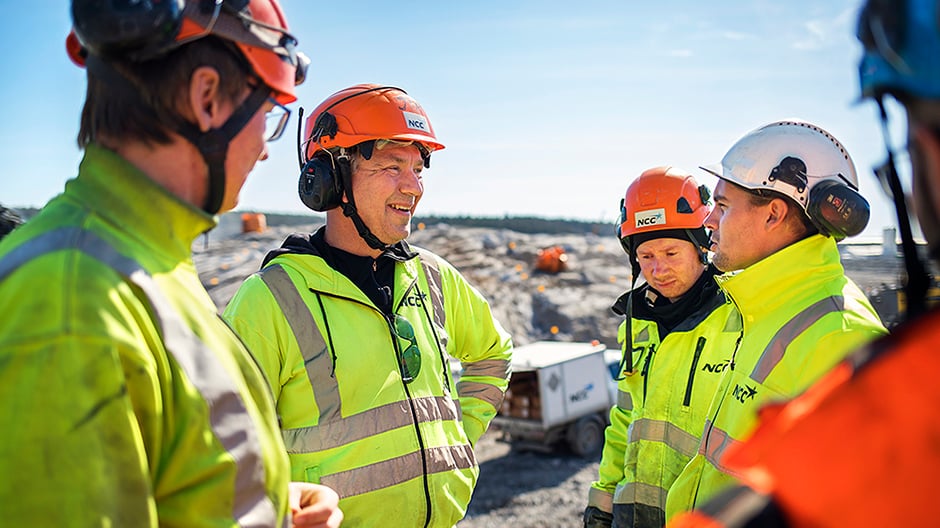 They detonate blast charges from boats and keep an eye on themselves and each other. In a few years they will have built the long-awaited freight port. The Stockholm Norvik Port will open in 2020.
Just now it looks like a scene from Star Wars. A rocky desert where gigantic machinery lumbers back and forth in what looks to the untrained eye to be a random pattern. But we have not travelled to a galaxy light-years away. We are in Norvikudden, just outside Nynäshamn. After many protracted legal deliberations, the work to build the new freight port is now in full swing. The Stockholm Norvik Port will be the port of the future for rolling goods and containers and will be able to welcome the largest vessels operating in the Baltic Sea. Stockholm Norvik will also be a logistics hub with a logistics and business park, as well as a railway connection to the Nynäsbanan railway line.
Ports of Stockholm Project Manager Magnus Sjöberg had worked on the project for five years before the final court ruling was issued and the physical work could begin in June 2016.
"We were poised and prepared with an armada of skilled workers, who set course for Norvik as soon as we were given the go-ahead. For me "at long last" was the overwhelming emotion," says Magnus Sjöberg.
The area at Norvikudden where the new freight port will be sited covers 44 hectares (which is somewhat larger than the size of Stockholm's Old Town, Gamla Stan) and consisted for the most part of trees and rocky outcrops. The focus during the first year of the project has been on preparative work, such as the recently completed dredging at Utterviken, land reinforcement, blasting and management of the blasted aggregate shoreside.
"This is to the utmost degree an engineering-run project, where we use tried-and-tested methods. The major challenge is to juggle the logistics of having several different contractor firms working simultaneously. For example, we have worked hard to create safe routes into the construction areas. If two trucks each weighing a hundred tonnes were to collide there would be very unfortunate consequences," explains Magnus Sjöberg.
Blasting expert Jim Jonsson stands on a rocky knoll talking to some of his colleagues. The knoll is riddled with boreholes that can be easily seen, thanks to their bright yellow plugs. The blasters want to achieve a smooth, flat rock face here and are using charges that are a little more "gentle" than the liquid bulk explosive they usually use. This site will be where the rail tracks that connect the port to the Nynäsbanan railway line will be laid down. Despite his almost 30 years in the profession, Jim Jonsson felt "a bit overwhelmed" when he first arrived at Norvik in August 2016.
"This is going to be the death of me, I thought. There was so much rock!" he says in lilting Dalecarlian, with a twinkle in his eye.
Working with explosives brings certain pressures. The safety regulations are rigorous and require all of the blasters to double-check both their own and their colleagues' work. At the same time the explosives team must work at a fast pace so as not to delay the project.
"If our blasting is not up to scratch there will be a lot of people not able to work and that can quickly result in concern. But as things are now, with everything going well, there is a great mood throughout the construction site," Jim says.
Between August 2016 and April 2017 Jim and his colleagues have blasted out four million tonnes of rock. The single largest blast was 275,000 tonnes. Jim had prepared this for two weeks and detonated the charge from a boat out in the bay.
"You can never be 100% certain about how a hill will react. So I did have a few butterflies in my stomach when I stood there with the plunger. But the blasting went fantastically well," Jim states.
Truck driver Kristoffer Lundström passes by a hundred metres away. He is driving a Caterpillar dumper truck and is on his way to what looks like a quarry in part of the area to collect the blasted rock aggregate. When he gets there he reverses in towards a colleague operating an excavator, who immediately begins loading his truck with blasted rock. The truck bed has the capacity to carry 70 tonnes. Kristoffer then sets off back towards the water and dumps the aggregate into Utterviken.
A lot of the rock material that has been blasted out will be used to backfill the bay and form the foundation for the quay-berths. In addition a nine metre-high layer of rock aggregate will be laid down over the future port esplanade area to compress that land and prevent future subsidence. On the way back to the "quarry" Jim waves to the driver of the project's water tanker truck, who constantly sprays water over the ground to prevent hazardous dust from forming.
"I have seldom experienced such good camaraderie between people from different firms on a construction site. We all get along and are considerate of each other, and that makes everyone's work a lot easier," says Kristoffer Lundström.
He works in seven day shifts and during his working weeks lives in barracks, together with work colleagues from the Bröderna Öhman construction firm. Tomorrow he is scheduled to return home to Yttersta, just outside Piteå, to "relax" with his three children for a week.
"My wife bears a heavy load while I am away, so I have to make up for that when I get home," Kristoffer explains.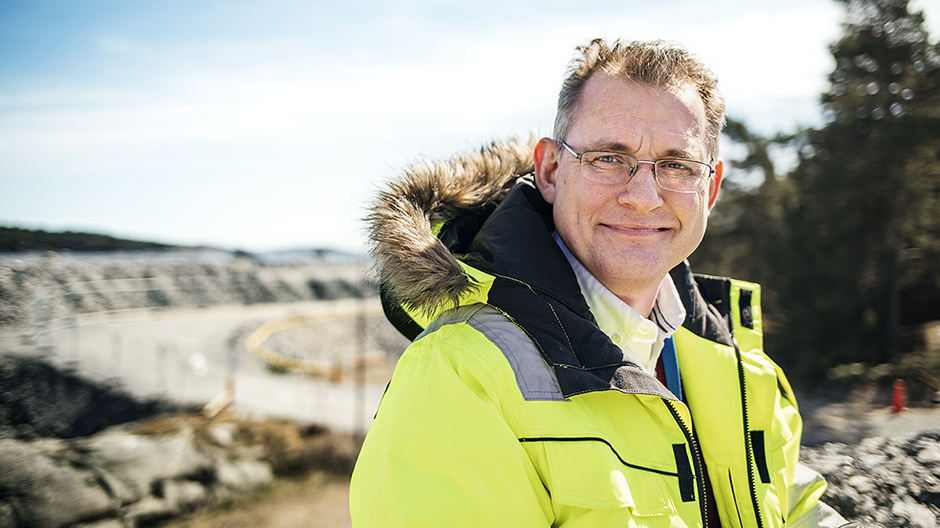 Project Manager Magnus Sjöberg.
On a normal workday one hundred people are busy constructing the Stockholm Norvik Port. Is it really possible to keep track of everything that is going on? The Ports of Stockholm project office is located in a grey, two storey barracks a short distance away from the port area. From here Project Manager Magnus Sjöberg and his team direct the construction work at the new port.
Today Magnus has a review meeting with Construction Manager Jessica Malmberg. Her role is to be the employer's eyes, overseeing the work with various types of land reinforcement pilings. As 4000 pilings need to be driven into place in the port area there is a lot to do.
"I am out on site a lot to check that the contractors comply with the terms of their contracts. I check that the right machinery is being used, that the paperwork has been completed, and I assess whether the quality of the pilings is sufficiently high. It is a role that sometimes involves criticising work that has been done, and to be credible I have to be knowledgeable and have evidence to back up what I am saying. When there is discussion I have to be receptive, but I also must have the conviction to stand my ground," says Jessica Malmberg.
Magnus Sjöberg nods his head happily when he hears what Jessica has to say.
"Ultimately my most important task is to find the right person to do each job," says Magnus Sjöberg.
In less than three years the rocky desert at Norvikudden will be a fully functioning freight port. To date things have for the most part gone according to plan.
"It feels as if we have come through the trickiest part, as working beneath the ground involves so many uncertain factors. In the autumn we will begin working above ground with building the quays and the port esplanade area. It will be mightily satisfying to see the port really start to take shape," Magnus Sjöberg concludes.
Stockholm Norvik Port facts
Designed to handle both containers and rolling goods.
Maximum depth of 16.5 metres enables the largest Baltic Sea vessels to call at the port.
Efficient connections to both road and railway networks.
When fully developed the port can handle around 500,000 containers annually and a rolling goods flow of 200,000 haulage vehicles.
Ports of Stockholm estimates that the Stockholm Norvik Port will be ready for the first vessel call in the summer of 2020.
Container operations will be run by Hutchison Ports, one of the world's biggest terminal operators.