The Supreme Court says YES to the construction of the Stockholm Norvik Port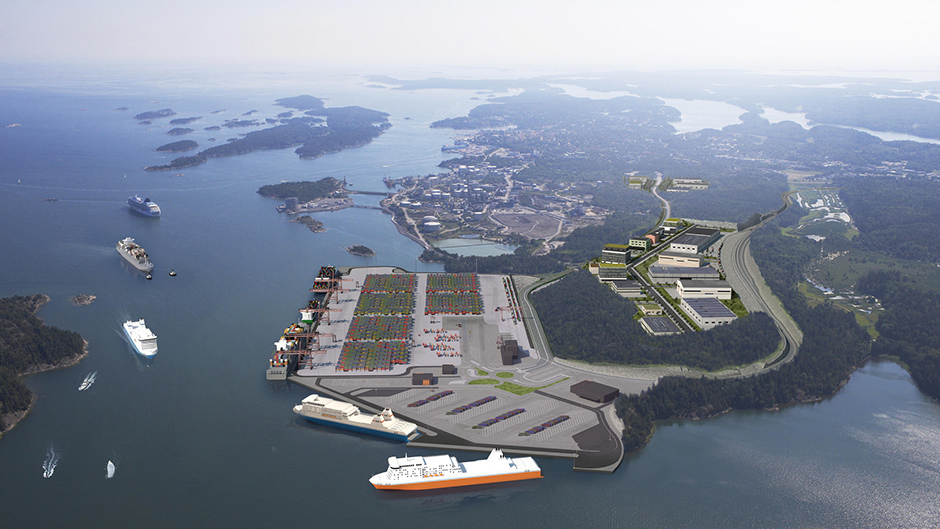 The planned freight port, the Stockholm Norvik Port, just north of Nynäshamn, is extremely important for the establishment of an efficient, eco-friendly supply of goods to the Stockholm region. In accordance with the Swedish Environmental Code, construction and operation of the port requires a legal ruling. Today the Swedish Supreme Court issued a positive ruling by deciding not to allow permission for an appeal to be heard. This means that construction of the port can begin during the year.
"We are very pleased about the Supreme Court's decision. After a long process in this important project for the Stockholm region, the Supreme Court has issued its final ruling and we can at last begin to build the Stockholm Norvik Port," says Johan Castwall, Ports of Stockholm Managing Director.
In Sweden nine out of ten goods arrive by sea, and a large portion of these are destined for the Stockholm region. The Stockholm Norvik Port will make it possible to transport goods as close to their final destinations as possible by sea. This results in major environmental benefits and simultaneously reduces the pressure on Sweden's already congested road and railway networks.
"The global growth that we are experiencing generates increased freight volumes and Stockholm is the most rapidly expanding capital city in Europe. This imposes high demands for an efficient and sustainable supply of goods. By ensuring that we have the capability to welcome vessels that are becoming ever larger we are creating financially and economically attractive transport possibilities for our region. The Stockholm Norvik Port, with its natural depth, short approach lanes and close proximity to the market is an important piece in the goods supply jigsaw puzzle," continues Johan Castwall.
It is expected that Ports of Stockholm will be able to welcome the first vessel into port about three years after the start of construction.