Almost half a million cruise passengers spend half a billion in Stockholm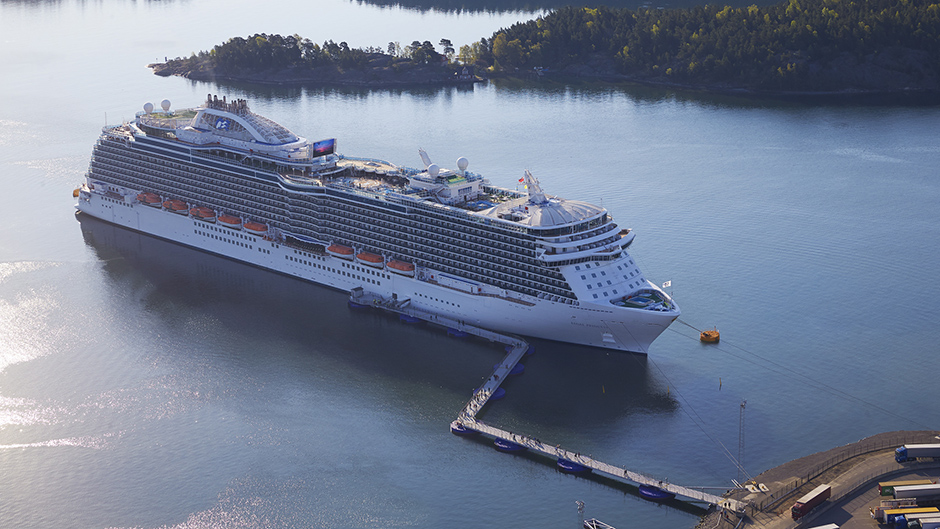 In October the cruise season concluded when the cruise ship AidaMar arrived in Stockholm. In total it was yet another good cruise season, with Stockholm retaining its popularity as a destination.
An entire 230 cruise ships carrying 490 000 passengers called at Ports of Stockholm during the April – October cruise season. The number of turnarounds reached a record high with 57 vessels beginning and/or ending their cruises in Stockholm. Passengers then often spend an extra day and night on land, which benefits the tourist industry even further.
"Cruise passengers in total spend more than half a billion SEK on sightseeing, hotels, restaurants and shopping in Stockholm and are therefore an important part of the entire tourist revenue," explains Johan Castwall, Ports of Stockholm Managing Director.
"This year we have improved the service for passengers at the Port of Nynäshamn with our new Seawalk, an extendible pier that is used instead of smaller transport shuttle boats," says Henrik Ahlqvist, Cruise Marketing Manager at Ports of Stockholm.
This most recent and exciting Ports of Stockholm pier construction was inaugurated at the Port of Nynäshamn in time for the start this year's cruise season. The Seawalk is a practically unique solution and is a 260 metre-long pier that can be extended out in a similar way to a measuring ruler to reach the vessel. The pier was used for 16 vessel calls and was very popular, among other things because passengers and baggage can be more easily embarked and disembarked.
Stockholm is a popular destination and next year already has 273 cruise ship bookings, of which 74 are turnaround vessels.
Environmental facts
This year 8 out of 10 international cruise ships offloaded wastewater at Ports of Stockholm. Most cruise ships are equipped with their own water purification facilities and therefore do not offload wastewater in port.
Ports of Stockholm is one of only a few ports in the world that has the capabilities to be able to accept black and grey wastewater, or in other words toilet, shower and galley wastewater. Waste management facilities are available at all cruise ship quay-berths in Stockholm and offloading of waste is included in the port fee (harbour dues).
The port fee also includes offloading of domestic waste, and vessels that sort their waste at source are offered a reduced tariff.
Ports of Stockholm is working actively in several collaborations to reduce environmental impact.
Facts about international cruise traffic at Ports of Stockholm
| | | | | |
| --- | --- | --- | --- | --- |
| | 2016 | 2015 | 2014 | 2013 |
| Cruise ship | 230 | 247 | 264 | 278 |
| of which are turnarounds | 57 | 53 | 42 | 47 |
| Passengers | 490 000 | 530 000 | 467 000 | 478 000 |
Press image
Images of cruise vessels and the Seawalk at Flickr:
Image 1 (external link)
Image 2 (external link)
More images in the press folder at Flickr (external link)
See film about the Seawalk (external link)
Please contact us
Ingrid Hansson, Public Relations Manager, Ports of Stockholm, +46(0)70-770 27 47, ingrid.hansson@stockholmshamnar.se
Sabina von Greyerz, PR Manager Visit Stockholm, +46(0)8-508 280 69,
sabina.von.greyerz@stockholm.se