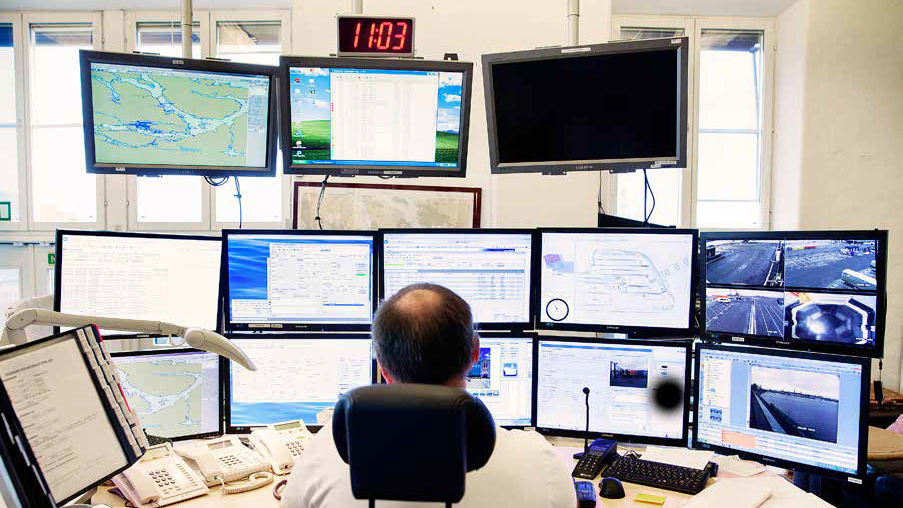 Following the terror attacks in the USA on 11 September 2001 security measures have changed at all of the world's ports. The same is true for Ports of Stockholm. More intensive collaboration between different port departments has increased safety and security for the commercial services operating from the ports and for passengers.
We leave the main office building in one of Ports of Stockholm's eco-friendly cars to travel out to the Pier at Frihamnen so that Hans Kemkes, Head of Security at Ports of Stockholm, can show us the new security perimeter, or in other words the newly installed black steel fence and its associated security cameras. Despite the fact that all seems calm on this overcast Friday morning, it is not difficult to see that there is a lot of security work being carried out.
A lorry is parked on the quay beside the Tallink Silja ferry. A blue truck with a large boom arm is moving slowly past the lorry. The boom arm is in fact a gigantic scanner that X-rays the lorry to be able to quickly and efficiently check what it is carrying.
We also drive past the automatic sobriety checkpoints, where drivers who have just arrived perform a self-breathalyser test. The sobriety checkpoints are the result of a collaboration that includes Ports of Stockholm, the Police, Swedish Customs and Excise and the Swedish motoring organisation MHF (Motorförarnas Helnykterhetsförbund). The sobriety checkpoints, which were introduced as a trial in the autumn of 2014, now look like they will become a permanent feature.
"Over the first few months there were quite a lot of people who failed the breathalyser tests, but as the project has continued there have been less and less and during the past few weeks no driver has tested positive at the checkpoints," says Hans Kemkes.
September 11 changed the world
If you compare security at Ports of Stockholm today with that prior to the start of the 21st century you will find few similarities. Location mapping, surveillance monitoring and inspections are much more thorough. These developments are a direct consequence of the 11 September 2001 terror attacks in the USA. To prevent a similar incident from happening again politicians in America demanded that international security standards should be more stringent in a number of areas, including shipping. In 2004 the UN International Maritime Organization (IMO), introduced new regulations for security operations in ports and aboard vessels.
Sweden adopted these regulation through the introduction of a new Maritime Security Act that same year. In 2006 a new Port Security Act was also introduced, which included specifications of the obligations of ports to protect people, infrastructure and vessels against "serious, unlawful acts".
"With hindsight you could say that everything changed very quickly and that everyone was in a hurry to comply with the new legislation. Now in recent years we are starting to achieve our targets and with the help of the technological developments we can now work much more efficiently," explains Hans Kemkes.
The port must feel safe and welcoming
At the nucleus of Ports of Stockholm's security measures lies the Port and Traffic Department (BTC), which is located above the main office building in a raised room with glass walls. There are a number of screens in the room from which people with clearly displayed ID cards and information about vessels with different service and inspection needs are monitored.
"Previously the inspection of goods was mostly a matter of random sampling and people could pass in and out whenever they wanted. Today we have completely different routines for the inspection of goods and people, and no unauthorised person is permitted to be in the area. At the same time we have placed more emphasis on making sure that the port feels safe and welcoming. We hope that everyone who visits or works in the port areas perceives the security work as something we are doing for their benefit," says Hans Kemkes.
Mandatory security training
Education is an important part of the security work. Hans Kemkes' colleague Sani Klinga is a Security Officer and the project manager for Ports of Stockholm's e-learning initiative. The e-learning training consists of web-based material that has film sequences and interactive sections that demonstrate the regulations that apply in port areas. After you have studied all of the material in the e-learning training you sit a short test.
"In the past we handed out a booklet to everyone working in the port area. But it was difficult to judge if people really read it. As the e-learning is mandatory and every part of the training has to be completed via the internet to pass the test, the e-learning covers all aspects," says Sani Klinga.
There are two e-learning versions; one for employees of Ports of Stockholm that takes around 45 minutes to complete, and a shorter version for external contractors that takes around 25 minutes to complete.
"Most of the people who have completed the training think that it is good and interesting. The most important message we want to get across is the importance of cooperation, that we are all a part of the security efforts. If you notice something strange or unusual it is extremely important to pass this information on to a security guard or to another member of the security staff," says Sani Klinga.
Security perspectives apply everywhere
It is not just the legal aspects that result in a demand for security measures. The comprehensive construction work that is taking place in several of the ports also constitutes a challenge. Security Officer Martin Slåtterman is responsible for making sure that the security aspects are not forgotten while all of the exciting new expansion and development work is taking place. He reviews the plans and makes sure that all of the security fencing, gatehouse checkpoints and cameras meet the required standards.
"The challenging thing about the construction projects is that everything happens so quickly. When a construction meeting is held I often receive plans that have to be reviewed in a very short time frame. The projects are also very large and expensive. Those of us responsible for security try to be flexible and find solutions so that the process does not suffer delays. But at the same time we must say stop if something is not up to standard," says Martin Slåtterman.
There is nothing to suggest that Head of Security Hans Kemkes and his team will have less to do in the future. On the contrary, the EU is currently examining whether Sweden should interpret the current legislation in a more stringent way, which would probably increase the security work at Ports of Stockholm. Regardless of which new tasks may be around the corner, Hans Kemkes tries always to put people first.
"One of my most important work tasks is to make sure as many people as possible understand the benefits of the security measures. Everyone pulling in the same direction makes things much easier," concludes Hans Kemkes.
Security in numbers
Ports of Stockholm has 16 port facilities that are covered by the Maritime Security Act.
On an intensive summer day, with a lot of vessels calling at Ports of Stockholm, there may be as many as 35 specially trained maritime security inspectors (guards) on duty at the same time.
The Port and Traffic Department (BTC) has staff on duty 24 hours a day, every day, and manages around 2 000 calls from the gatehouses each month, when people arrive and need access to port facilities.
In 2014 around 330 000 trucks, 94 000 trailers and 1 000 000 private cars passed through Ports of Stockholm.
In the same year Ports of Stockholm issued 3 500 pass cards.