Stockholm awaits half a million cruise passengers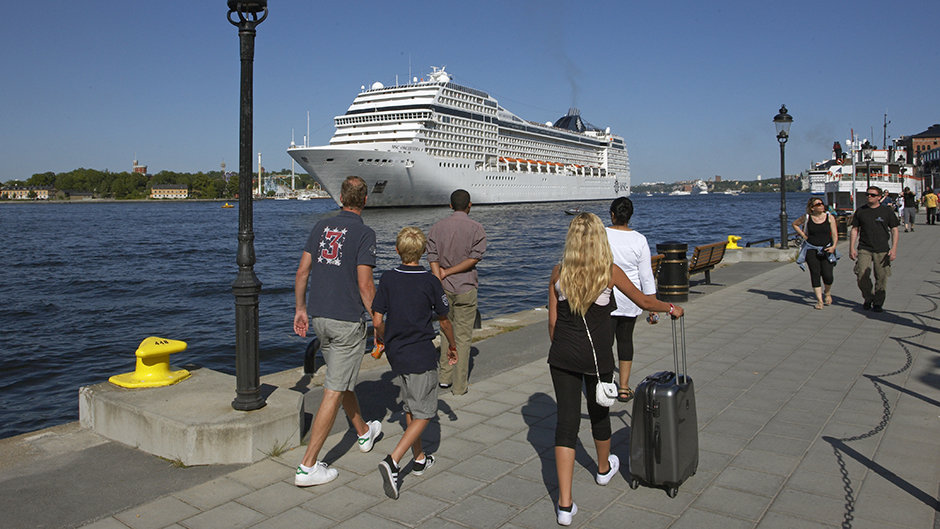 The 2016 cruise season starts on 3 May when the cruise ship MSC Musica arrives in Stockholm. This summer half a million cruise passengers are expected to visit Stockholm and spend a combined total of around SEK 0.5 billion during their stay.
Each year sees the visit of more than 40 cruise shipping companies, with more than 80 different cruise ships calling into Stockholm. The season opens on 3 May when the MSC Musica calls at Stadsgården. It is anticipated that 240 cruise liners will call at Ports of Stockholm before the season closes on 13 October with the departure of the cruise ship Aidamar. The shipping company Viking Ocean Cruises will continue its turnarounds in Stockholm and will increase its presence with an additional vessel, the Viking Sea.
The work of developing Stockholm as an international cruise destination is a joint effort shared between Ports of Stockholm and the Stockholm Visitors Board.
"Cruise tourism contributes enormously to visitor revenue and is significant for the entire Stockholm region. The number of vessels seeking overnight berths at Ports of Stockholm continues to rise, which is positive as those passengers remain in the region for longer, visit more attractions and therefore spend more on sightseeing, hotels, restaurants and shopping in Stockholm," says Karin Wanngård, City of Stockholm Commissioner of Finance.
Vessels are becoming larger and can accommodate more passengers. In time for the start of the cruise season, Ports of Stockholm has substantially improved service at the Port of Nynäshamn with a 260 metre-long extendible pier, which can connect directly to the vessel.
"This year's cruise season is expected to be almost as good as the record-breaking previous year. We are however concerned about the proposed increase in the fairway dues to be paid to the government, as this could have major consequences for cruise traffic," says Johan Castwall, Ports of Stockholm Managing Director.
Cruise passengers, who primarily come from Germany, the USA, England and Italy, spend a combined total of around SEK 0.5 billion in Stockholm on hotel stays, restaurant visits, sightseeing and shopping.
Facts about international cruise traffic at Ports of Stockholm
2016
(estimated)

2015

2014

2013

2012

Cruise calls

240
247
264
278
275

- of which turnarounds

56
53
42
47
50

Passengers

>500 000
530 000
467 000
478 000
469 000
Green facts about cruise ships at Ports of Stockholm
Ports of Stockholm is one of the few ports in the world with the facilities to accept black and grey water from vessels, or in other words the waste water from toilets, showers and galley kitchens.
Waste water management facilities are available at all quay-berths in Stockholm and offloading of waste water is included in the harbour dues. In recent years around 70 percent of vessels have offloaded their waste water during their Ports of Stockholm call. The cruise ships often also have the possibility to purify water using their own onboard facilities. 
Offloading domestic waste is also included in the harbour dues, and those vessels that sort their waste at source are charged a reduced fee.
All of the anticipated cruise calls can be found in the vessel list on the Ports of Stockholm website and via the CruiseSthlm app that can be downloaded free of charge from Appstore or Google Play for Iphones and Androids.
*Turnarounds are especially important for the tourist industry and mean that passengers begin and/or end their cruise in Stockholm and therefore often choose to spend an extra day and night on land.
Link to image on Flickr (opens in a new window)