Ports of Stockholm commits to photovoltaic systems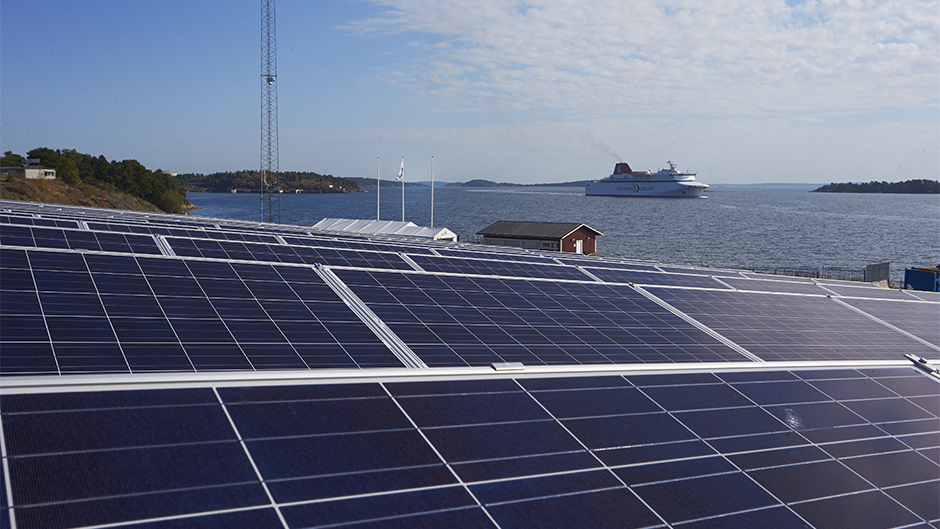 Ports of Stockholm's second photovoltaic system facility has now been expanded and is in operation on the roof of one of the buildings at the Port of Nynäshamn.
As part of the company's efforts to become a fossil fuel-free operation, Ports of Stockholm has chosen to commit to photovoltaic systems. There are currently two large photovoltaic facilities, one at Frihamnen and one in Nynäshamn.
"This is truly a good investment. We are using untapped resources in a positive way and have taken a major step towards our goal of becoming a fossil fuel-free operation," says Johan Castwall, Ports of Stockholm Managing Director.
The newest facility is on the roof of the office building at the Port of Nynäshamn and is 800 square meters in size. The facility was initially taken into operation last year and was then expanded to include more than 500 photovoltaic panels over the summer of 2015. The anticipated electricity production is around 125 000 kWh per year, which is the equivalent of the annual electricity consumption of more than 5 average-size detached houses. Nynäshamn is a particularly advantageous location, as the hours of sunlight there are more than in other municipalities in Stockholm.
The first photovoltaic system, on the roof of the Magasin 6 building at Frihamnen, was inaugurated in 2013 and is one of Sweden's largest photovoltaic system installations. It has generated great interest and regularly attracts study visits from many different countries.
During the autumn of 2015 a third roof-mounted facility will be completed and will be taken into operation at the Port of Kapellskär.