EU investment visit to Ports of Stockholm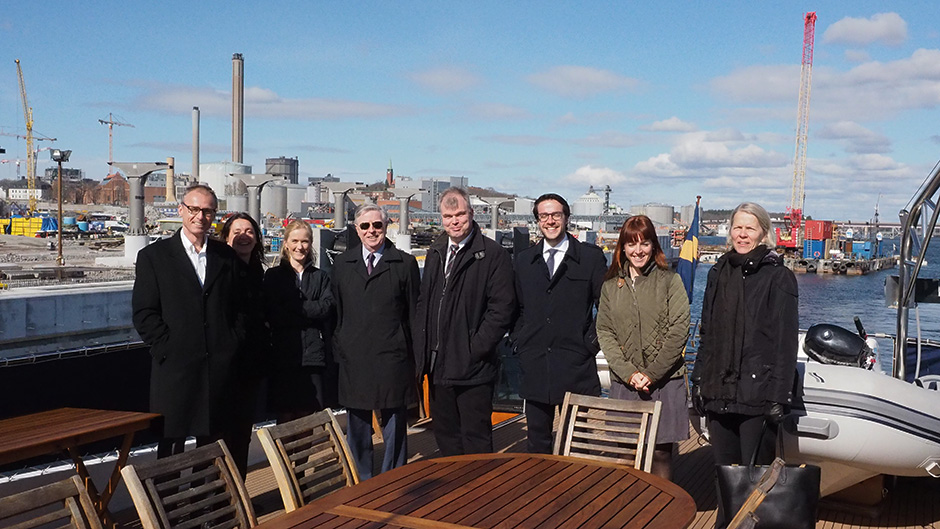 On Thursday 16 April Pat Cox, the coordinator of the work of developing parts of the EU TEN-T transport infrastructure network, visited Ports of Stockholm.
The Värtahamnen development project was presented and Pat Cox was provided with information about other major infrastructure projects in the Stockholm region that are important parts of TEN-T. Värtahamnen has already been awarded EU funding and Ports of Stockholm recently submitted a further application for funding for the development of port infrastructure and environmental improvements.
The EU Commission is working to create a common, efficient and sustainable transport system – a Trans-European Transport Network, also known as TEN-T. To achieve this requires comprehensive investment in infrastructure throughout Europe and the EU has set aside a portion of its budget to support infrastructure projects in areas such as ports.
Within the framework of the TEN-T mandate, nine prioritised transport corridors have been identified. These corridors shall be the first choice priority for infrastructure projects and EU funding. The longest of the corridors, the Scandinavian Mediterranean Corridor (ScanMed), extends from the border between Russia and Finland, through Sweden and continental Europe, all the way to Malta.
In 2014 work was carried out to define the infrastructure present in the corridor, the status of this infrastructure and the future needs. The work was overseen by coordinator Pat Cox and culminated in a plan of action that must be approved by the EU member countries that the corridor runs through. Ports of Stockholm, one of the prioritised EU TEN-T ports located in the ScanMed corridor, has actively participated in this work.
During the past week Pat Cox has been in Sweden to gain more knowledge of the transport infrastructure along the corridor, through site visits and meetings with relevant individuals and organisations. In Stockholm, in addition to Ports of Stockholm, Pat Cox met with representatives of the City of Stockholm, the County Administrative Board and the Swedish Transport Agency. Among other items, the discussion topics included the newly opened Norra Länken and expansion of the underground system.