Eleven ports to discuss LNG in Stockholm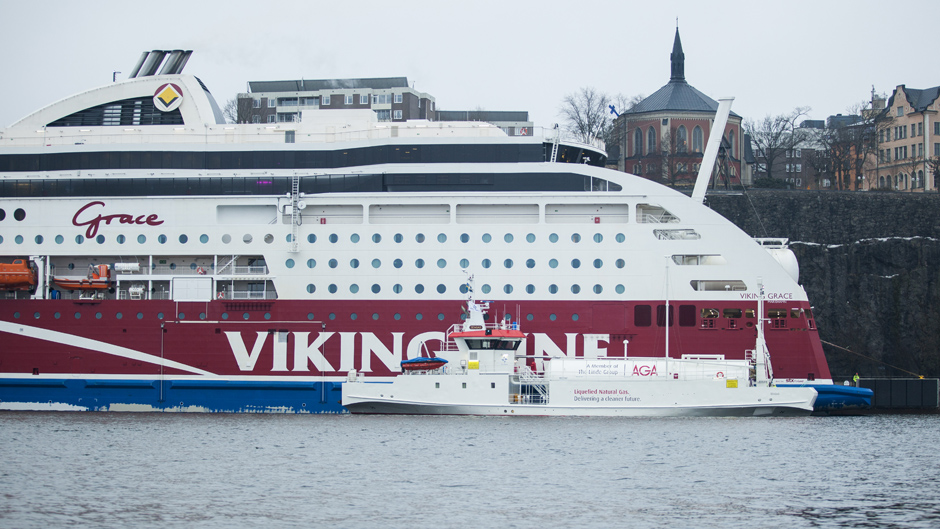 This week, the LNG in Baltic Sea Ports project that has been running for three years will end. Eleven ports gather in Stockholm to summarize the results of the project and to look ahead on what is next.
In the EU-funded project LNG in Baltic Sea Ports, Ports of Stockholm along with six other ports have worked on developing infrastructure for Liquified Natural Gas (LNG), which can be used as a marine fuel.
Within the project, the ports in Helsingborg, Copenhagen/Malmö, Aarhus, Stockholm, Helsinki, Turku and Tallinn have made feasibility studies on LNG terminals and bunkering solutions as well as safety manuals. In addition to the activities in each port, the project has also resulted in a handbook with good practice and experiences, which other ports and stakeholders can take advantage of.
In Stockholm, the project has mainly revolved around Viking Grace, Viking Line's newest vessel that is operating since 2013 and which is bunkering LNG in Stockholm. Viking Grace is the first large passenger vessel that runs on LNG and so far she has successfully bunkered more than 500 times in Stockholm.
The project is now ending with a closing meeting in Ports of Stockholm followed by a conference on board Viking Grace in order to present the results. In addition to the above mentioned ports, participants include among others the European Commission, the Swedish Ministry of Enterprise, Energy and Communications, the Swedish Transport Administration and representatives from the shipping industry. During the events, a follow-up project will be launched, LNG in Baltic Sea Ports II, where a number of new ports will engage in the expansion of LNG infrastructure.
About LNG
From January 1st 2015, new stricter rules enter into force regarding how much sulphur oxide vessels may emit. This implies a major challenge for the shipping industry. LNG is a fuel that meets these new requirements and therefore many shipping companies and ports are looking into the possibility of providing and using LNG as a marine fuel. In order to encourage a switch to LNG, the EU has also decided on new legislation that requires member states to ensure that LNG for marine use is available in a number of ports.
Read more about LNG at Ports of Stockholm
Read more about LNG in Baltic Sea Ports (extern länk)
Open or download the LNG handbook (pdf)